First Class Auto Transport Review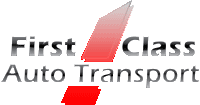 First Class Auto Transport is a nationwide auto transportation company based in Oceanside, New York. The company maintains offices in multiple states, including New York, Florida, Illinois, California and New Jersey. It transports automobiles, motorcycles, SUVs, minivans and recreational vehicles to destinations nationwide.
Auto Transportation for Individuals, Businesses, Dealers
Like most companies in this space, First Class Transport primarily provides auto transportation services for individuals and private businesses. In addition, the company also specializes in auto transportation services for military personnel, relocation companies and car dealerships around the country. The company offers special discounts for active duty military personnel and for veterans of the US Armed Forces. First Class claims that it transports about 10,000 vehicles in total, on average, per year.
Aggressive Pricing
First Class has tried to separate itself from the competition via aggressive pricing. The company, for instance, offers coast to coast open carrier shipping for as little as $699, a price that is at least $200 lower than that offered by a majority of auto transporters. Unlike many transporters, First Class also does not require any booking deposit. Fees are only payable after a truck has been actually assigned to pick up the customer's vehicle.
Clearly Defined Insurance Coverage
All prices include insurance coverage for up to the Kelley Blue Book value of the vehicle. The company's booking order and bill of lading clearly mention all of the occurrences that are not covered under the insurance, so customers know exactly how much insurance coverage they have when they book with First Class Auto. In addition to car shipping, First Class also transports motorcycles as well as classic and collector cars using the same insurance coverage model.
Fast Transit Times
First Class Transport also prides itself on offering some of the fastest shipping times in the industry. The company's average transit time for coast to coast shipping is between 7 and 10 days and between 3 and 5 days for shorter distances. First Class claims that, in many cases, it delivers vehicles even faster than these averages. The company requires at least 7 days notice in order to schedule a pickup. It does offer expedited services for an additional fee.
Positive Reviews
Customers interested in learning more about the company can read a First Class Auto Transport review from websites such as Transportreviews.com. Most customers who have offered a First Class Auto Transport review on these sites appear to have had a favorable impression about the company. In many cases, the reviews reflect satisfaction with the company's customer service and its delivery times.
Additional Research Tools & Information
MC Number 644830
Company Address
3590 Lawson Blvd
Oceanside, NY 11572