Vehicle Shipping Rates
Posted on 04 11, 2011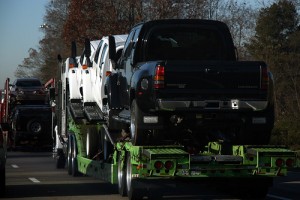 Are you interested in shipping a car? If so, the very first thing you will need to do is find the best vehicle shipping rates possible. With the power of the internet at your fingertips, you can obtain vehicle shipping rates from multiple car shipping companies within minutes. Keep in mind that many things will affect your car shipping rates, such as the desired method of shipping and when you want your car shipped.
The information provided below will help you get the best vehicle shipping rates, without you having to sacrifice quality of service to get them.
Compare Multiple Vehicle Shipping Quotes
When you want to get the best vehicle shipping rates for your auto move, you need to comparison shop. By obtaining multiple car shipping quotes online, you can easily find a transport company that will fit your budget and your needs. In addition, having multiple vehicle shipping rates spread out in front of you helps make comparison shopping that much easier.
When You Ship Your Car Matters
Summertime is usually the busiest time of the year for auto shippers. Because the demand is there, expect to see higher vehicle shipping rates if you need to ship your vehicle during the summer months. If you can wait until winter to have your car shipped, you will be able to score lower auto shipping rates during that time.
Shipping Method Affects Vehicle Shipping Rates
When you opt for a service like door-to-door auto shipping, prepare to pay a higher premium for it. If you are looking for the lowest vehicle shipping rates, consider terminal-to-terminal auto transport. Having your vehicle dropped off and picked up at a terminal may sound inconvenient, but if the pickup and drop-off locations are in or near a metropolitan city, there is a good chance the terminals will be located close-by anyway.
Also, your vehicle shipping rates will be much higher if you choose enclosed shipping over having your car shipped in an open hauler. Some transport companies do offer enclosed auto shipping as a standard service, but most charge extra vehicle shipping rates for enclosed auto transport.
Inquire About Discounts
If you want to get the best possible vehicle shipping rates, it pays to ask potential auto shippers if they offer any discounts. Some offer student, military, and multiple car move discounts for their shippers. Keep in mind that most auto transport companies will not advertise their discounts when offering vehicle shipping rates to their potential customers, so it will be up to you to ask.