Comparing Shipping Services
Posted on 08 23, 2010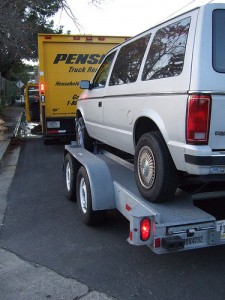 Have you found yourself in need of car shipping services, but do not know where to start? We have compiled a brief list of service options that most car shipping companies offer to help make the process a little easier for you. Prices and services do vary by company, so, if you see a service on our list that may interest you, do not hesitate to ask your chosen car shippers if they offer it.
Enclosed Shipping vs. Open Automobile Shipping
Open car carriers are the big trucks you usually see on the roadways hauling several cars at a time. An enclosed trailer is similar to what you see many sports cars and exotic cars transported in. Both shipping services are safe and reliable. Most people do choose to go with open auto shipping services because it is cheap and safe.
Enclosed shipping services do have a few advantages when it comes to safety and security. Since cars are protected inside of a closed-in trailer during transport, no dirt or road debris can damage the vehicle, and no direct sunlight, wind or rain can get to it either. Expect to pay more in shipping costs for enclosed auto shipping services than you would pay if you choose open auto shipping services.
Door-to-Door vs. Terminal-to-Terminal Shipping Services
The two most common types of pickup and delivery shipping services are door-to-door auto transport and terminal-to-terminal auto transport. Door-to-door service is very convenient and a great way to ship and receive your vehicle. Nevertheless, like everything else that is convenient, door-to-door shipping services will cost you extra.
Terminal-to-terminal shipping is a more economical option available for those who want to save money on their shipping services. This type of shipping service is also convenient for anyone who needs to drop off and pick up their car on a certain date and time. With this service, you can easily drop off your car where it will be waiting for a driver to pick it up. When the car arrives at the delivery terminal, you will be informed of the arrival.
There are a few things to add to both shipping services. For instance, door-to-door is not necessarily guaranteeing that the shipping company will be able to pick up or drop your car off exactly at your front door. If the driver is unable to gain easy access to your residence, you will need to meet him at a location close to the pickup and delivery location to complete the transaction.
The downside of terminal-to-terminal shipping services is that if your car sits in the terminal waiting for you to pick it up, it could be subject to theft or other damages, and you may incur vehicle storage fees while your car or truck is in the terminal.
You will need to consider your spending budget and the time-frame of when you will need your vehicle picked up and delivered to decide between services. Knowing these two things will help you choose the shipping services that are right for you.