Car Hauler Trailers
Posted on 09 15, 2011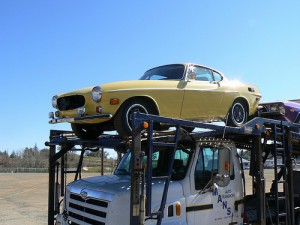 Car hauler trailers offer a relatively inexpensive alternative to using professional auto shipping companies to transport your car to or from another location. Car trailers are basically specialized equipment designed to be towed by another vehicle. You can hitch such a trailer to your SUV or truck and tow your car safely to its new destination. Car trailers are available in a wide variety of sizes and formats, and can be used to tow sedans, SUVs, mini-vans and other vehicles. Such trailers can be either open trailers or enclosed trailers. Some are designed to carry just one vehicle, while some car hauler trailers are capable of carrying multiple vehicles.
You Can Buy or Rent a Car Trailer
Car hauler trailers can be rented from most major auto rental companies and auto transport services. The typical rental charges for a week start at about $200 and go up depending on the kind of trailer and options you select. Many companies allow one-way car trailer rentals, though they typically cost more than a round-trip rental. You can also buy a new car trailer for as little as $5,000, or a used one for around $3,000.
Car hauler trailers offer a convenient way to move your vehicle. However, there are several important considerations you need to keep in mind when transporting your vehicle using such a trailer.
Ensure Your Vehicle Can Tow a Trailer
Make sure that your towing vehicle is capable of hauling a fully loaded car trailer. Generally, the combined weight of the trailer and the car it is hauling cannot exceed 75 percent of the tow vehicle's gross weight.
Consider Using a Pickup or SUV as Your Tow Vehicle
Ideally, you should use a pickup truck or an SUV to tow a car trailer because these vehicles have the horsepower, transmission, brakes and axles needed to tow a car trailer. If the vehicle you are towing is a small car weighing less than 2000 lbs, you might be able to tow it with a smaller, two-wheel drive vehicle. However, if you are planning on towing a larger car, a four-wheel drive vehicle with a bigger engine is recommended.
Pay Attention to the Hitch
In addition to weight considerations, you also need to pay attention to the hitch. The hitch is what you hook the car trailer on to. Most vehicles come equipped with Class III hitches, which are adequate for towing cars of up to 4,000 lbs. For heavier vehicles, you will need a Class IV hitch.
Choose Your Trailer Wisely
Choose your trailer carefully. Car hauler trailers come in a variety of formats, including open and closed trailers, gooseneck trailers, double deck haulers and enclosed carriers. Typically, car rental companies offer car-tow dollies that lift your vehicle's front wheels off the road and allow you to pull your car behind you. These are suitable for smaller, front-wheel drive vehicles. If you have an all-wheel or a rear-wheel drive vehicle, it will need to be transported on a larger trailer with all wheels off the ground.
Pay Attention to Safety Precautions
Car hauler trailers can be tricky to manage, so you need to pay special attention when driving with one. When you hitch a trailer to your vehicle, it becomes an articulated or hinged vehicle. Relatively small miscalculations with weight or load distribution, or the manner in which your drive, turn or stop can result in potentially hazardous conditions. These include the trailer swaying, jack-knifing or rolling over. Experts generally recommend that, when you are towing a trailer, it is safest to drive at about half the speed that you normally would drive at without a trailer. They also recommend special attention to maneuvers such as turning, stopping, changing lanes and reversing.
Whether you buy or rent one, car hauler trailers offer a relatively inexpensive and convenient way for you to transport your car so long as you pay attention to all of the recommended safety precautions. If you don't feel comfortable transporting your car yourself, consider hiring auto transport companies to haul it on their trailers for you.